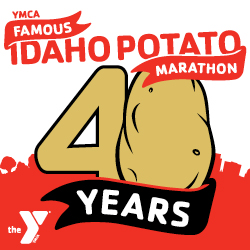 Summer is coming are you looking for fun activities? We will be at the YMCA Famous Idaho® Potato Marathon this weekend. We will be dancing and doing potato sack races. Join us it will be a great time!
Famous Idaho Potato Marathon
Saturday, May 19, 2018
The YMCA Famous Idaho Potato Marathon, presented by the Idaho Potato Commission, is a fun full marathon, half marathon, 10K or 5K course along the Boise, Idaho greenbelt. All courses are flat and fast! This marathon can be used to qualify for the 2019 Boston Marathon. Bring the entire family out for this event! We have a distance that will work for everyone. Being the 40th anniversary medals will be given to all finishers! Enjoy a Famous Idaho Potato Bar with all the fix'ns after the race prepared by Life's Kitchen for all race participants.
Did you know that all participants will receive medals this year to celebrate the 40th Anniversary!
Start Times & Location:
Marathon & Half Marathon – 7am at Sandy Point State Park
10K & 5K – 10am at Albertsons Headquarters West Parking Lot
New Finish Line location: Albertsons Headquarters in the West Parking Lot (250 E Parkcenter Blvd, Boise)
Updated Course Maps: updated 05/03/2018